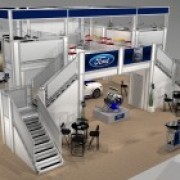 Image Design and Communications, Inc. A Burbank, CA based company, announces the launch of DoubleDeckExhibitRentals.com, unprecedented in the trade show exhibit industry by the number of design options shown and Fixed Cost Turnkey pricing.
Los Angeles, CA, September 23, 2015 (Newswire.com) - ​www.DoubleDeckExhibitRentals.com allows Trade Show Exhibitors, Exhibit Designers, Marketing and Ad Agencies provides access to more high quality custom exhibit designs, each rendered in 3D than all trade show web sites in this category combined. Innovative, Turnkey Service caps the costs of transportation and labor, the most common source of budget cost overruns for exhibitors.
Fixed Cost pricing, an industry first on this scale
According to Nick Drance, President of Image Design and Communications, Inc., "The innovations we've built into our newest website allow Exhibitors, Exhibit Designers, Marketing and Ad agencies to explore the widest range of custom Double Deck rental designs available anywhere. The benefit of being able to do it at their own pace, in their own time is immeasurable in terms of making an informed decision. The number of designs with itemized costs and fixed Turnkey costing on this scale is unprecedented in the trade show industry."

Nick Drance, President
According to Nick Drance, President of Image Design and Communications, Inc. " The advantage of Fixed Cost pricing and Turnkey Service is huge at the Double Deck Exhibit level. We've eliminated the two largest obstacles many companies face even considering a Custom Double Deck Exhibits because we cap those costs without charging a premium."
The high cost and added complexity of show services management often puts Double Deck exhibits out of reach for many companies. Now exhibitors can prevent the risk of cost overruns that could easily reach 5 figures and enjoy lower than anticipated costs. Nick added; "Our Turnkey Service opens the door for many companies to cost effectively expand their existing trade show program and for others, the opportunity to step up to the kind of presence only two story exhibits can provide."
Unprecedented variety of design options shown.
DoubleDeckExhibitRentals.com offers 25 unique custom designs in a variety of booth sizes and floor plans. An additional 30+ design variations build on the original floor plan and in many cases completely transform the original design concept. Mike Cernicky, Sales and Design Consultant explained the significance of this feature. "Every client has their own unique requirements, no two are exactly alike. Our clients want choices and the ability to narrow down the number of design concepts from 50 to 5 in a fairly short amount of time helps my clients feel confident that together, we've arrived at the exact design that meets their unique requirements."
Each design concept has three different perspective views so visitors to the site can see the essential functionality of a design from a number of angles. Many designs include download-able .pdf floor plans, important in determining the functionality and traffic flow of a particular design. http://doubledeckexhibitrentals.com/multi-level-booth-rental-on5040/. The company provides clients with photo-realistic renderings illustrated with final graphics prior to finalizing the design.
Alli Waters, Sales and Design Consultant for the company added; " So once we fine tune the functionality of the design itself, we can balance itemized costs with specific benefits. Together, my clients and I can more effectively focus on the details and fine points that make the difference between a good show and an outstanding show!"
Image Design's business model utilizes regional warehousing and relationships with private Union Labor and freight companies nationwide, developed over 30 years. These relationships allow the company to offer reliable, cost effective exhibit options for trade shows in Las Vegas, Anaheim, Los Angeles and Orlando and convention centers across the U.S.
Image Design and Communications specializes in Trade Show exhibit design, modular display sales and exhibit rentals in Las Vegas, Anaheim, Los Angeles, Orlando and Convention Centers nationwide.
For more information, contact :
Nick Drance 818-563-3322
Nick@ImageDesignCom.com
Share: